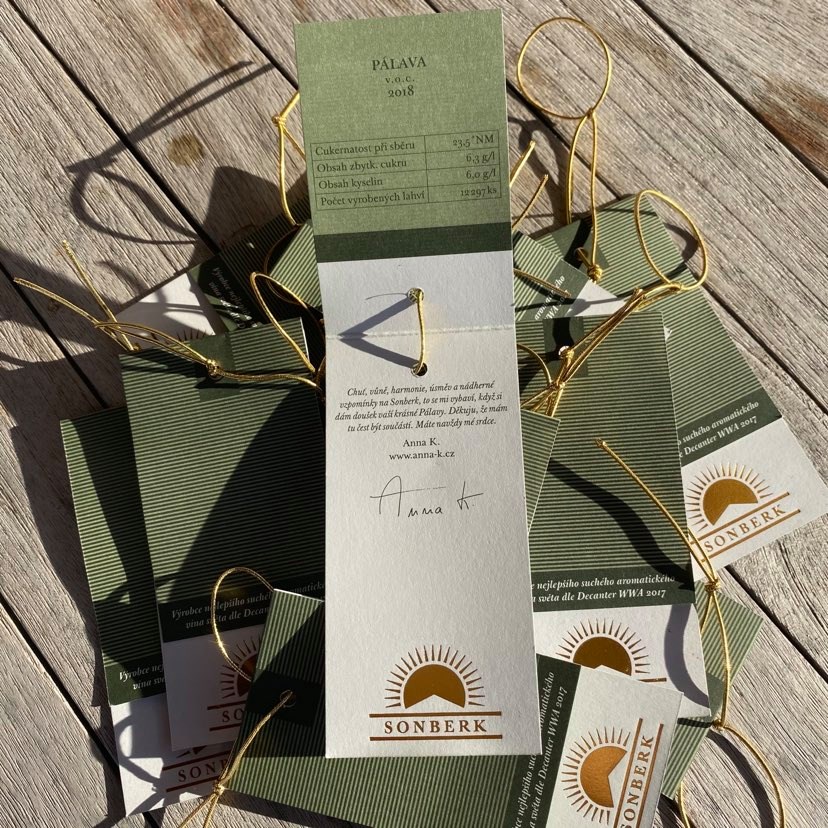 Memories of nice moments at Sonberk, experiences associated with our wine, or links to great life stories. You can find all of this on the tags of our wines from the Sonberk Grand Cru line. The messages were written by people who support our wines or what we do in the winery in general.
"We were lucky enough to play a concert at Sonberk, experience the unique atmosphere, including the view on 'the magical hill', and there are several unpublishable stories connected to this evening. If all this fits in one bottle, then you are drinking brilliant wine! We sacrificed and tried on our own for you. You're welcome!" The members of the band Jananas wrote on the Riesling 2018 VOC, reminiscing about one summer concert night, which we also still remember.
We traditionally offer Riesling VOC to musicians, but then there is no strčit division with other wines. Rather, we follow what fits together. The patron of the sweet Pálava is the chocolate manufacturer Michal Herůfek, because it is the sweet wine that nicely complements the chocolate. The message of the sommelier and editor-in-chief of the Wine and degustation magazine Michal Šetka at Merlot 2018 also makes sense. It was he who picked up this wine so much in one of his reviews. "I often hear that we can't make top-quality red wines in our country. Ever since I first tasted the Sonberk´s Merlot, I have always smiled at this statement," writes Šetka on a tag.
There is also a message on the Burgundy cuvée Chardonnay & Pinot Gris, which is recommended by 14 of the 14 members of the Young Winemakers Association, or on the straw Pálava 2018. Here Mike Mazey, a native of Australia and author of the book Wine Words, pairs this wine immediately with specific dishes. On the novelty, Pálava Noble rot, speaks Bib-awarded French chef Vincent Faucher. And on the classic Pálava 2018 VOC, Anna K. remembers our beautiful summer. "Thank you for the honour of being a part of it. You have my heart forever," writes the singer and we are very happy about that. So what wine and patron will you choose in the end?