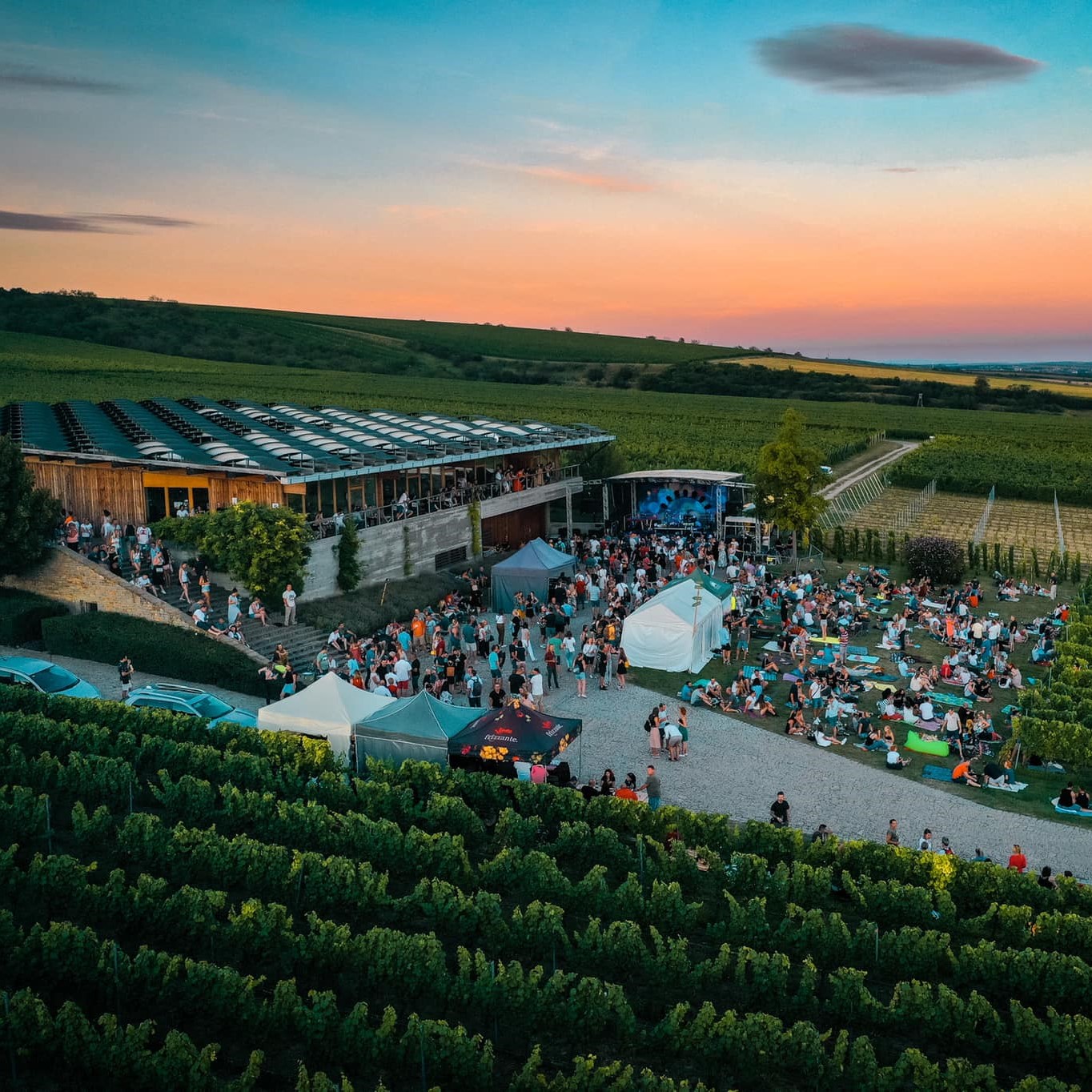 We chill wine and look forward to your visit. Here is some practical information to make sure you enjoy the concert at Sonberk to the max.
Ticket sales:
Tickets are sold online at xticket.cz or on our winebar at Sonberk. In case we don't sell out all tickets in advance and there is still space available, we will offer standard tickets for purchase on the day of the concert.
The most important things:
We open Sonberk for the concert at 18:00, around 20:00 the concert of the main performer will start. For selected concerts, you can enjoy the waiting time with the performance of a support band.
The entertainment ends and all guests depart between 22:00 and 24:00.
Please make sure you have sufficient cash, as the ATM is a long way away.
Free parking for cars and caravans is available at the entrance.
Please take into account possible bad weather and equip yourself with a raincoat in case of rain. In the event of extreme inclement weather, the concert will be cancelled. Please note that there is no indoor shelter from the weather at Sonberk Winery. You can use your own car for emergency evacuation on site.
Opening hours and organisation:
On the day of the concert, the winery opens from 10:00 to 16:00.*
The rear bike gate also closes at 16:00 and will reopen after the concert. It will remain open until midnight. 
Between 16:00 and 18:00 the winery is closed to the public and technical preparations for the concert are underway.
This is a time when you can re-park your car outside the Sonberk area and/or take a walk around the grounds.
Concert gates open at 6:00 pm.
The performance will start at 20:00.
Our wine point and refreshments will still be available after the show. You can also purchase wine before you leave.
We will close the Sonberk area around midnight after the last guests have left.
*Organizator "Hudba na vinich" can change the opening hours
Parking, transport, taxi:
Free parking for your cars and caravans is available directly under the winery gate. There will be helpful colleagues on hand to advise you exactly where to stop your car. 
If you decide to arrive by train or bus, get off at Popice or Šakvice, from where it is about 30-45 minutes to reach us.
For an overview of taxi services, please visit our website: https://www.sonberk.cz/en/enjoy-accommodation-and-taxi
We recommend using the Funtaxi in Hustopeče, book through the app or online here: https://ftaweb.esol.cz/
Refreshments:
Of course, you can look forward to Sonberk wines. In order to avoid pouring them into plastic cups, we prepared a special edition of glasses for 80 CZK/pc. We will avoid the production of disposable plastic waste and you will have a glass to remember. If you already have one at home from last year's concert, you can bring it with you.
Refreshments will be provided by Wine Wellness Hotel Amande and a selection of coffee and lemonade will be served by Kafe a slanina.
Please bring sufficient cash with you as well, the ATM is far away.
Disabled access:
For assistance please call in advance on +420 777 630 434. 
There will also be a wheelchair accessible toilet. 
Accommodation:
We do not offer accommodation at Sonberk. Although we are very sorry, there will be no possibility of pitching a tent and parking a caravan and staying overnight on the winery premises. The option is offered under the winery gate, the area is primarily used as a parking area but does allow for an overnight stay.
A list of accommodation capacities in our area can be found on our website: https://www.sonberk.cz/cs/zazijte-ubytovani-a-taxi.
Weather:
The concerts are held outdoors in almost any weather, so be sure to bring a blanket, repellent, sunscreen or a raincoat.
In the event of expected or sudden extreme weather conditions such as thunderstorms or storms with strong winds, the concert will be cancelled. In the event of cancellation, the organizer of the concert will notify the participants via the ticket seller xticket.cz by e-mail with further information. 
Please note that there is no possibility to take shelter from the bad weather indoors at the Sonberk Winery. You can use your own car for emergency evacuation on site. The very limited capacity of the indoor areas will be used for visitors with reduced mobility or small children. Thank you for your understanding.
More info:
Kids admission: under 3 free
Pets allowed.