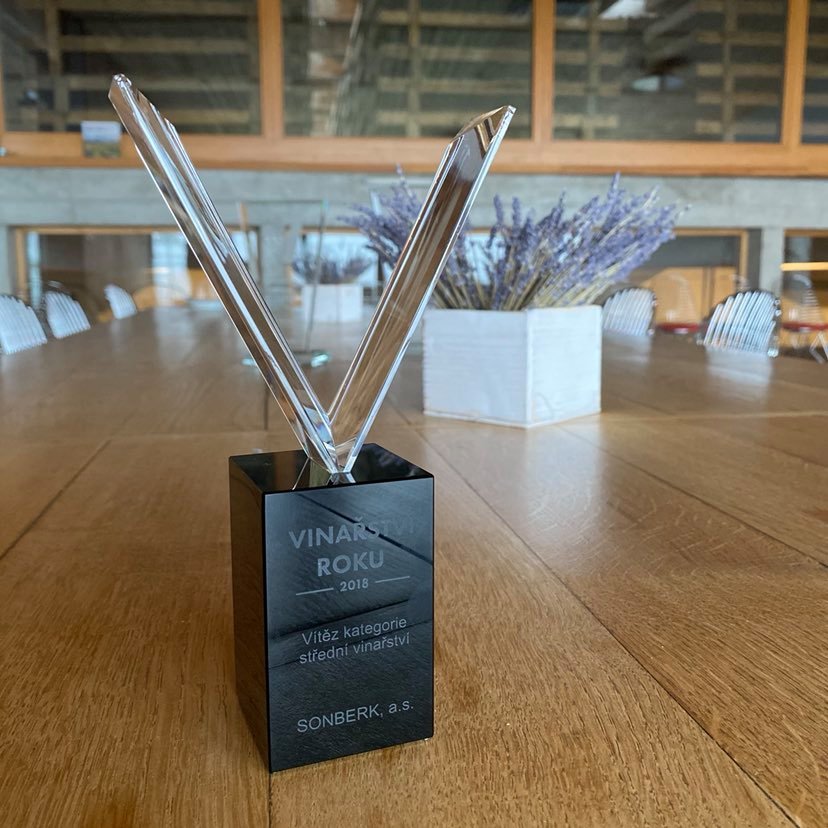 A sunny day welcomed an important delegacy in Sonberk on Tuesday. The Winery of the Year competition's evaluators visited us at a pre-announced inspection - we have the honour to be in the finals again after two years. "We were a little nervous. The jury means seven people who know all aspects of the field and can look anywhere. At the same time, we were also happy to be able to show where we have moved in the past year," Dáša Fialová, our marketing and sales director, sums up the visit.
The judges toured all nine final wineries for three days, as their evaluation is comprehensive. For each of the participants, they follow their work and the vineyard's condition, the technology in the cellar and the wines themselves, business and marketing strategies, and the whole environment in which it all takes place.
Our winemaker Roman Slouk first took them through the vineyard and showed a new part, which we planted more than a year ago. Then the program was straightforward: Tour through the technological background, talking to cellar master Olda Drápal, tasting of selected wines, and a presentation about what has been going on over the last year.
"We drank the wines that brought us the greatest success last year, so of course the Riesling Noble rot, which received a platinum medal at the Decanter, Riesling VOC or cuvée Chardonnay & Pinot Gris 2016. And we talked about what all we were able to do and organize at Sonberk last year," says Dáša, who kept to the assignment. This year's edition of the competition should specifically reward how winemakers have adapted to difficult times.
The competition organizers already have an evaluation of who was the best, but they have not yet revealed it to anyone. We all have to wait for the formal announcement, which will take place online on Thursday, February 4, from 6 pm under special hygienic measures on the Facebook profile and the competition website. Physically, only a limited number of people can be present, so Dáša and Olda will represent us on the spot. In the 11 years of the competition, no one has yet managed to defend the absolute victory. We won it in 2013, and in 2015 and 2018, we became the winners of the "medium "category. So keep your fingers crossed. Maybe we will be the first to break the rule of not repeating victory.