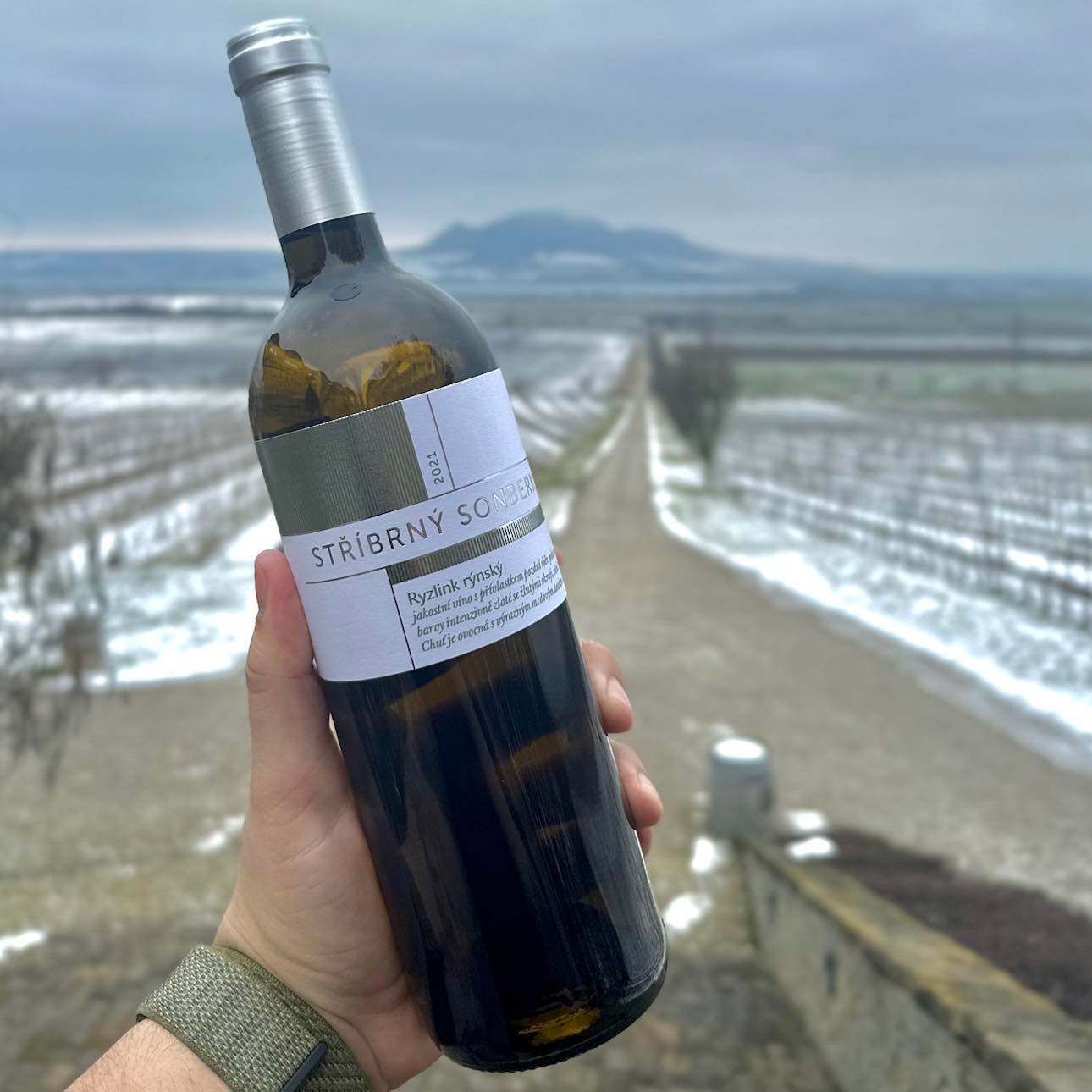 Loess subsoil with soil crumbles of muscovite, extremely dense planting of heads, rows barely two metres apart. Beautiful southern view of the Pálava panorama with the silhouette of the Popice church. Only 2,5 hectares of Riesling, with a few rows of Traminer nearby. This is our young Mitrberk vineyard, tended year after year by three pairs of patient female hands. It's difficult to squeeze tractors and technology equipment into such a narrow space...
The 2021 vintage at Mitrberk gave us beautiful Riesling grapes with playful, crisp acidity. The Indian summer sun, the morning mists and the warm wind coated some of the berries with the noble fungus botrytis cinerea. We hesitated for a long time how to handle one tank of this Riesling. It turned out brilliantly, with a hint of botrytis and a trace of residual sugar.  
Compared to the majestic botrytised Noble Rot Riesling (97 points, Platinum Decanter World Wine Awards), it is more subtle, more drinkable, but retains what Sonberk Riesling lovers like to seek out and steadily find: clean, clear varietal aromas with notes of citrus pomelo, ripe apricot or honey. The taste follows the aroma, freshly fruity, honey-sweet. There is length and joy in the aftertaste - the discovery of another beautiful Riesling. 
"We vinified this Riesling with a carefully selected yeast culture and worked with it in a temperature-controlled stainless steel fermentation tank. We have been bottling for 15 months after harvest, so the wine is in optimal condition for consumption. I particularly like the dense combination of fresh acidity and residual sugar, it complements a very wide range of foods," says Sonberk's cellar master Olda Drápal. 
A limited number of bottles of Riesling 2021 MITRBERK are now available directly at the winery, but also online in the e-shop and at selected retailers.