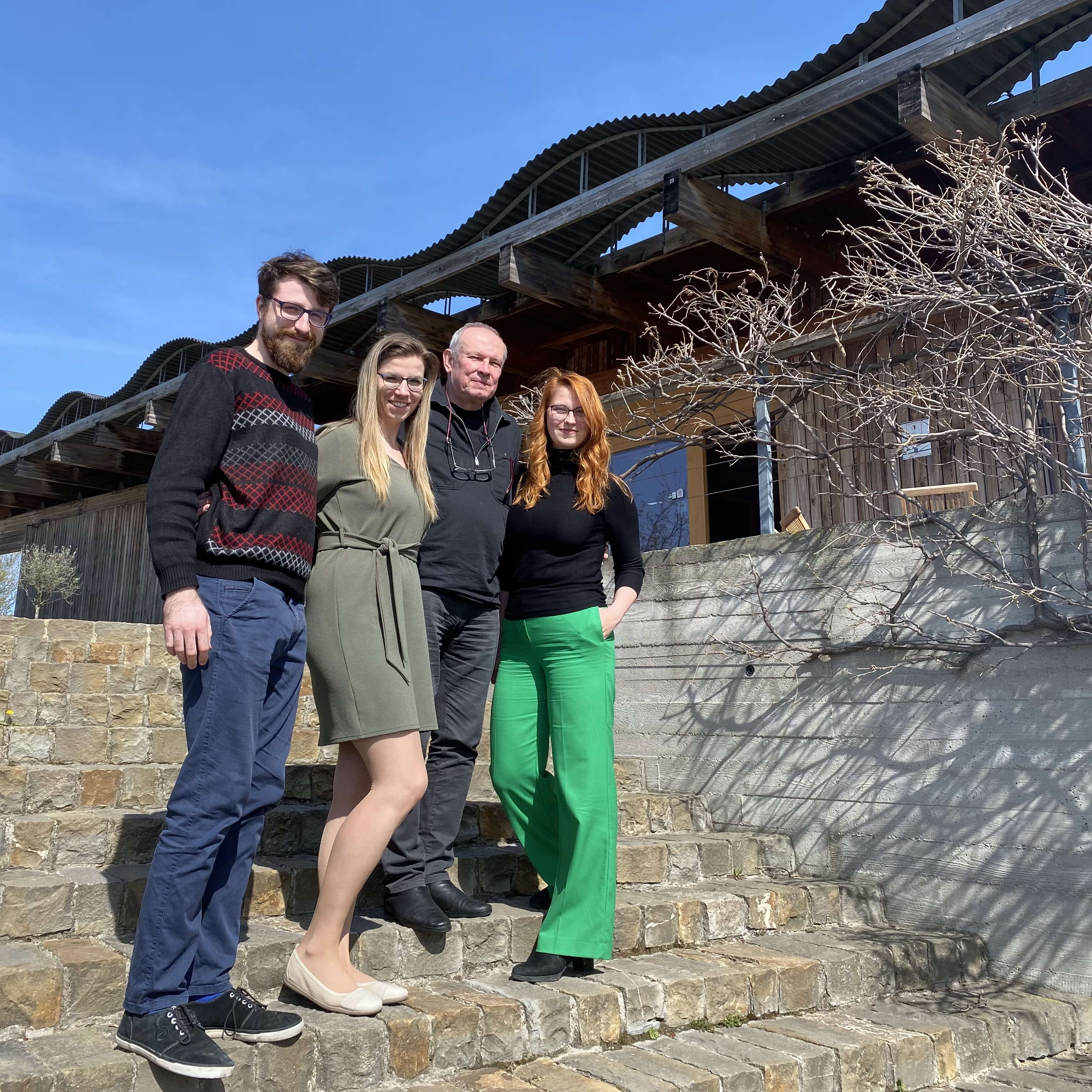 If you listen to our podcast regularly, you know how much we enjoy having guests visit. But for our twelfth episode, we have a really special one. After a few years, architect Josef Pleskot came to visit us and plan new things. Yes, the one who designed our building and made sure that the hill on which the vineyard was just a hill suddenly became such a popular place. And while he was with us, he gave us a lot of details about how it was built in the podcast. 
"It's aging beautifully," praises one of the most renowned Czech architects right at the beginning of the filming. He hasn't been to Sonberk for years, but due to the rush of work he can't keep track of his finished projects, so he took the visit and the filming as a bit of an inventory. He says that everything is fine, the building will last for a hundred years thanks to its construction and the materials used, and the wood that it is clad with will gradually change its appearance.
For visitors, this means that they will get a slightly different view over time. But it could have been much different, because the building was to stand in a much different place than where it is today. "The original plan was to locate it in today's orchard, but this was abandoned due to poor accessibility and talk turned to locating it in the vineyard. At first I was very much against that," Pleskot admits, recalling how he and the owner, Mr Vajda, tugged at the imaginary rope. "He wanted to build even higher, but that would have disturbed the relief of the hill and I didn't want that so much that I said I wouldn't do it in that case," says Pleskot with a smile. 
In the end, the building is lower, so it doesn't disturb the character of the hill, which the architect refers to as a "tame old man". It would be too much, he says, just because there is a "sharp girl called Pálava" across the street. The whole current episode of the podcast with Josef Pleskot is actually a little reader for architecture lovers. It talks about how the roof was made so that the grapes underneath would be good for straw wine, how wineries resemble blast furnaces, and how Sonberk helped Pleskot get into the company of really good architects.  
Spotify: open.spotify.com/episode/2he0lNHmPXb9XHJIaH9ENW
Soundtier: https://www.soundtier.com/mezi-radky/mezi-radky-12