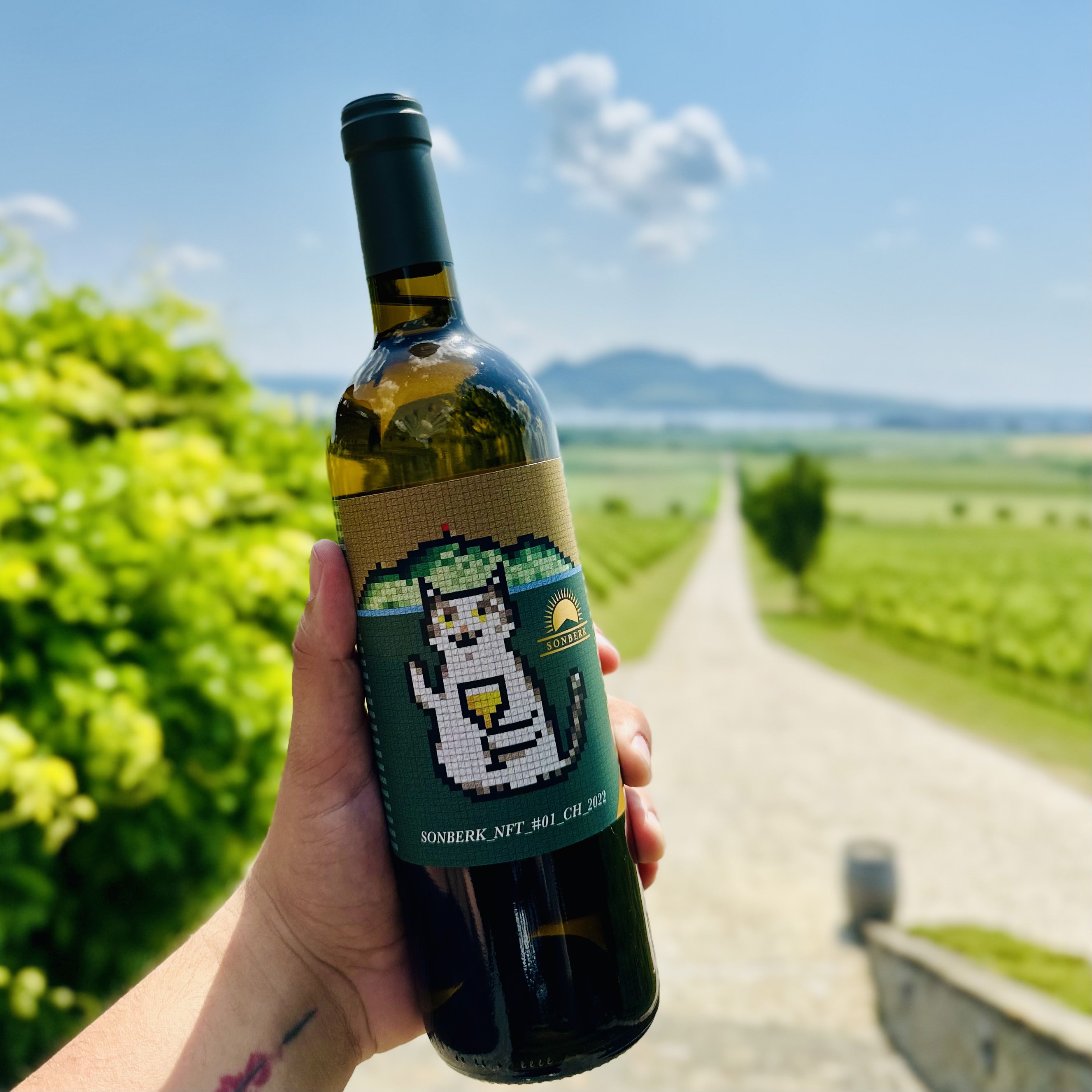 Try to guess... What will Sonberk come up with for the 20th anniversary? Will there be a second Rudimentum, created from the 2013 Riesling by our cellar master Olda Drápal? The birth or rediscovery of the winery mascot? Well, maybe an even bigger fling. Or maybe it's something else entirely. On birthdays, most of the time, the birthday celebrants get gifts, but on our birthday, we're giving to you! Read on for an edition of wines created for Sonberg's 2nd anniversary. 
Connecting wine with all the senses in nonsense
When else to play with our slogan and with exaggeration and the (un)senses than on the occasion of the 20th anniversary of the winery? Here comes the sensual wine and our celebrity Micka. All in NFT style. And you still don't know how our cellar master Olda Drápal, who incidentally made the first straw wine in the Czech Republic, interprets the acronym. 
If you are still (not) catching on, go ahead...
For those who haven't noticed NFT yet, the abbreviation comes from the English phrase Non-Fungible Tokens. In Czech it means Non-Fungible Tokens. These are used to prove ownership of images, videos, music tracks or articles. The most expensive NFT token was auctioned at Sotheby's for $3.7 million for a piece from the RarePepes series. In the Czech Republic, TMBK's NFT painting Maestropiece went for more than a quarter of a million crowns...
But don't worry, we won't ask you for millions!
"We did it our way," explains Olda. "This is a Nerez Fermented Chardonnay. It's chardonnay fermented in classic stainless steel tanks, as you've never seen it from us before." Marketing and Sales Director Dominika Holešínská describes the bottle and the label. The top layer of the label can be peeled off and you can stick Micka the cat in your diary or on your fridge."
And to make matters worse, we're joining the ranks of the first wineries in the Czech Republic where you can pay for your e-shop order with bitcoin. Unlike traditional NFT tokens, which can only be paid with cryptocurrencies, our Chardonnay NFT can also be paid for with a card. So let's see, what interesting things have you already bought with cryptocurrencies? Sonbery wine definitely counts as a super catch! What about the Sonberian Chardonnay NFT?
Here's to the next 20 years. And it's just meumous, says our Micka, who you'll meet if you're lucky enough to visit Sonberk. 
______________________________
And if you are still hesitant about how to use this limit, please read the following instructions properly. 
1. Find out everything you can about NFT and keep an eye on the cryptocurrency situation. It's important to keep an eye out and act at the right time!
2. Then you will know when is the right moment to buy our NFT Micky, whether at our summer concerts, in the wine shop or in the e-shop. 
3. Which payment method you ultimately choose is none of your business. But paying with bitcoin is kind of cool.
4. Take a bottle home. Peel off the top label and read the bottom one to see how many bottles you've actually drunk. Then stick our Micka on the fridge where you just pulled the bottle from. Open the bottle. Drink the bottle. 
5. Sadness ensues, because one Micka will definitely not be enough, and now you have to repeat the process all over again... After all, it is repeated until this limited edition is sold out. You're welcome! 
#sonberskeNFT #Mickanalednicce