At first glance, it looks like there's nothing to do in a winery during winter, but we're doing one of the most interesting things at Sonberk, straw Pálava. The grapes that we have dried for five months on the wooden screen beds under the wavy roof have been sent to the press and now, our cellar master Oldřich Drápal ml., will be working on it for several months. The pressing part is a bit easier than with grapes for classic wine. "These grapes are not separated from stems, they are being pressed whole. It does not matter, because as the stem dries, no undesirable substances are released from it, "explains Olda.
Straw wine is a very special for him, he made his first in 1994, at the age of 17. "At that time it was mainly an interesting thing, I got to do this during the student's professional activity at the Valtice Wine making high school," laughs Olda.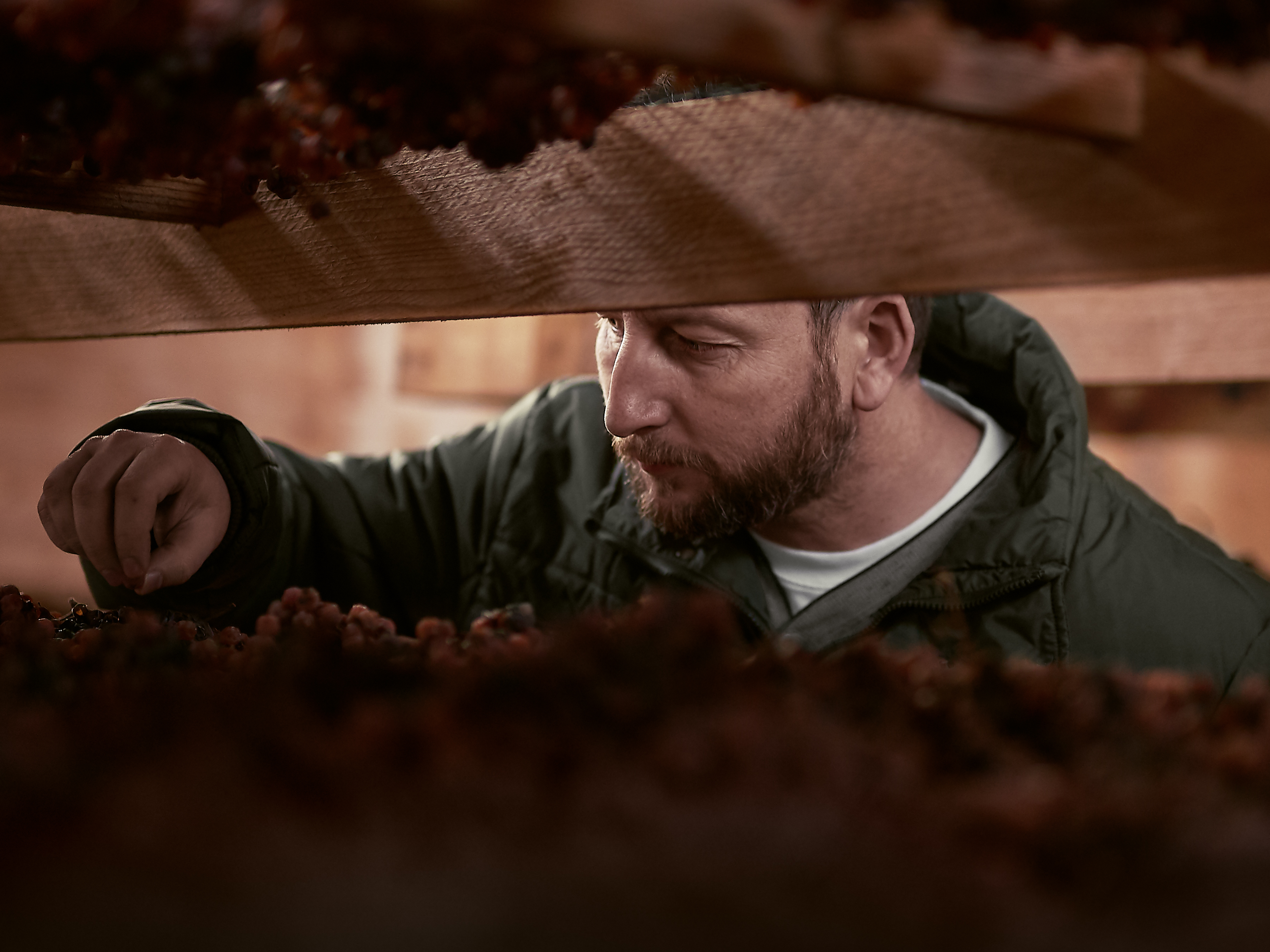 Sonberk has been doing straw wine since the beginning of its history, so since 2003, but earlier it was from Traminer. When this vineyard was old, and we needed to replace it, its successor was sought and the election fell on Pálava as a typical Moravian variety, which was the intention. "Moreover, straw wine is very good from Pálava because it has a stiff skin, so the grapes will not break as they dry," explains Olda.
Straw wine requires a lot of care. Only a lot of attention is paid to what is placed on the sieve because a couple of defective grapes could cause the entire batch to ruin during the months of drying. This was not the case this year, only a few grapes were thrown out of the original 2660 kilograms of grapes.
Now, we have a must, which we will digest for about two days, because a viscous, dense, full of sugar is demanding more time than a typical wine that would take just about 18 hours. The result should be about 400 liters of naturally sweet wine, which we will be blooming sometime around Christmas. And we hope he will be doing well with his customers and competitions just like its predecessors.
If you fancy trying our straw Pálava 2016, click here. Or stop by the winery. :)