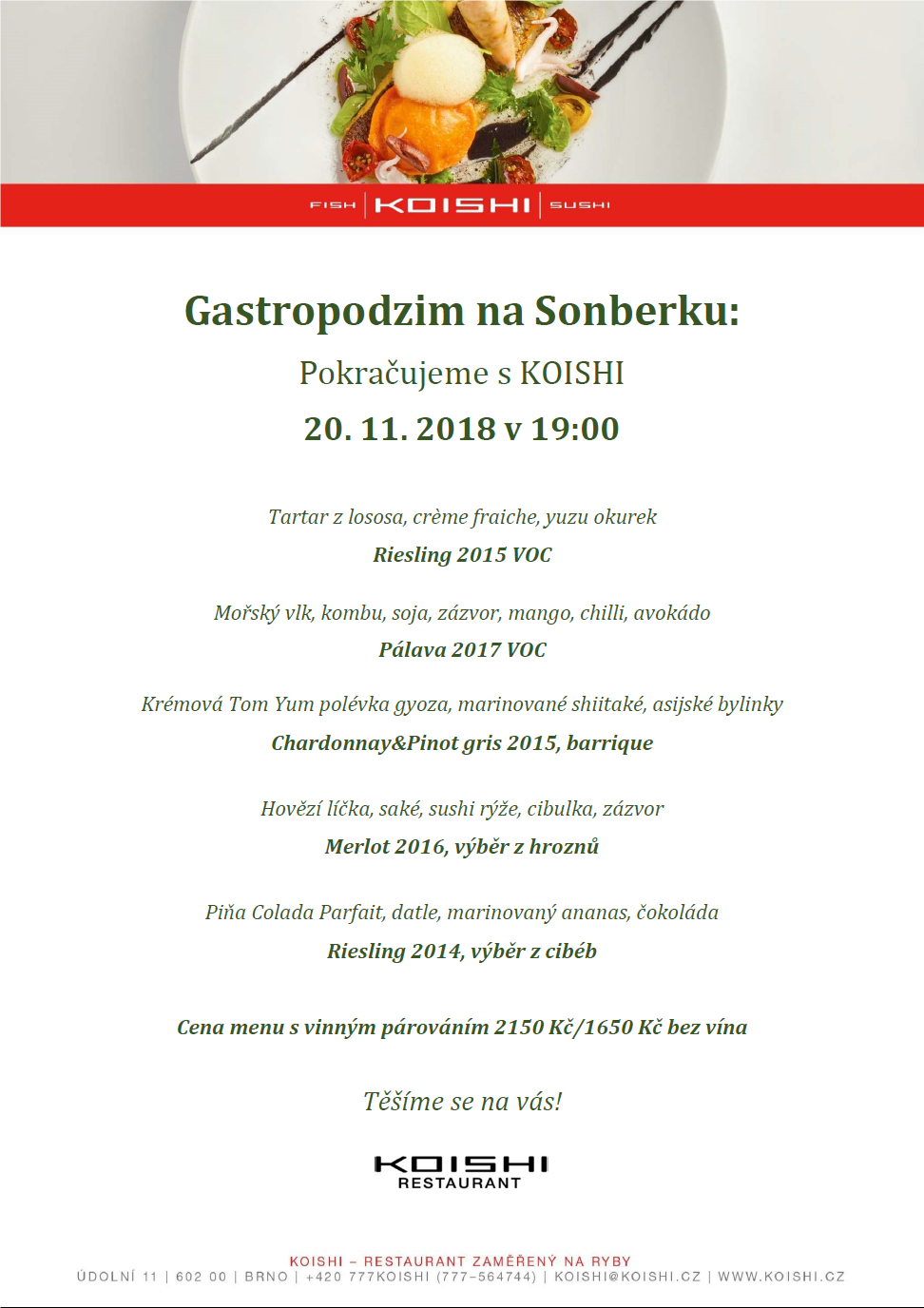 Wonderful wine and food will be paired on the second evening of our Gastroautumn, which we hold directly in the winery at our big table. It will happen two weeks from today, on Tuesday 20 November, in cooperation with the famous Koishi restaurant in Brno. We already know it will be a great evening. Why?
The resulting menu of this evening was based on our sommelier David Pavlíček, who chose what he thinks is the best Sonberks can offer. He brought it directly to Koishi, where they picked out the right meals for the wine. Served with salmon tartar, sea bass, Tom Yum creamy soup, beef cheeks and dessert, which is a variation on the well-known Piña Colada drink. "In Koishi they focus on European cuisine with Asian elements, working perfectly with seafood to orient oriental taste. And exactly in this spirit, the chef Martin Babica prepared the various courses for our evening, "said David Pavlíček, who has a deep relationship with Koishi and its wine bar and Petit Cru wine bar. Because few years before he came to Sonberk, he was working in that exact wine shop.
For booking a spot on the second evening of Gastroautumn you can e-mail sonberk@sonberk.cz, its price is 2150 CZK and wine per person. If you love Koishi and you often come to the restaurant, you can take it as an opportunity to enjoy their skills a little differently. Their chefs are going out of their kitchens about twice a year. However, they also present their art in the Reduta Theater as part of the Duchess and Chef's performances which we are also part of.