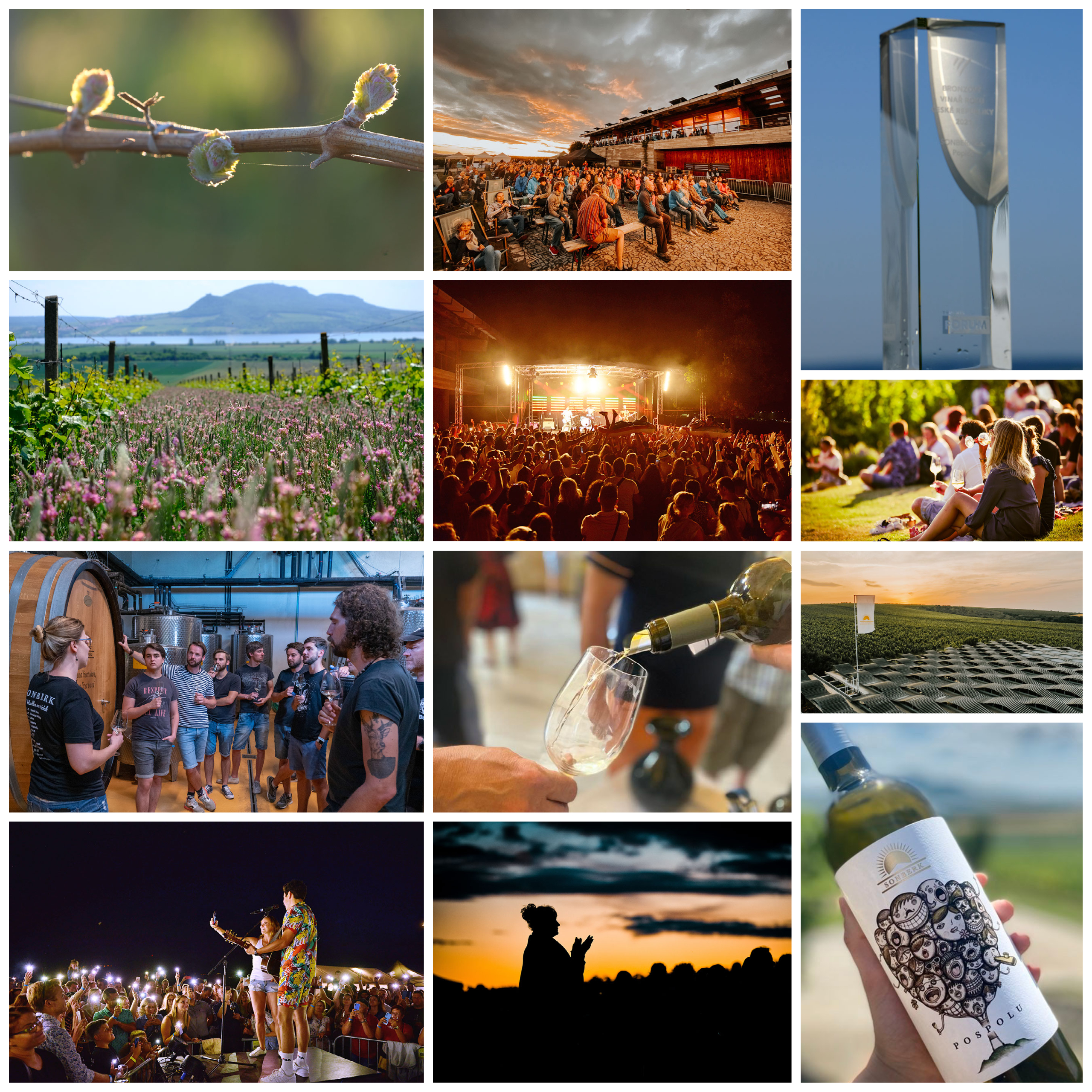 It's been a great year.
A challenging one. Not easy. It was a lot of work; probably the most we can remember in a long time. But it was worth it.
This was happening from January to April.
May 2021
We are finally opening our terrace and welcoming guests. We will also invite our friends from restaurants and with foodtrucks to cater you and let you enjoy a wonderful picnic experience. We are introducing a new wine: Pinot Gris 2019 from the Silver Sonberk line with a screwcap. We're sold out before the holidays are over. With loosening restrictions the general interest in summer concert tickets is on the rise. Spring and hope are in the air.
June 2021
We welcome the arrival of summer with a limited edition of wine - the concert cuvée Pospolu (Together) with an illustration by Aleš Sadil. His labels will win the international packaging design competition WorldStar Awards in December. And then it all happens at once in one day, on Thursday 24 June: the launch of a podcast with Bára Vojtová, PR manager of the Music at the Vineyards music festival, a tasting of the V8 Winemakers Alliance in Pilsen, the Riesling Rocks festival in Prague and a tornado that will sweep through the Břeclav and Hodonín regions. On Friday morning we run to the vineyard, which miraculously escaped the hail. In the following days, millions of people will open their protective arms for Moravia (#promoravu) and our cellar master Olda Drápal will organize a call for help that will raise another 100,000 CZK for the affected areas. A hundred thousand thanks.
July 2021
We'll kick off the holidays with a concert series when we hardly sleep: 3.7. Tomáš Klus, 4.7. Bára Poláková, 5.7. Jelen, 8.7. Queenie. Together we dance, sing and rejoice. It took half a year. But we've lived to see it! Eight concerts will take place at Sonberk in July. David Koller, Anna K. and Xindl X. Pokáč will end his performance with a song dedicated to František Nedvěd, who died two weeks ago. More than 500 voices sing the chorus of the Czech song U stánků and no one doubts for a moment that he doesn't know the lyrics.
August 2021
We are a partner of the Slavonice Festival. Then the summer spoils us with medals: gold for Pálava 2019 VOC from Spain, 87 points for Riesling 2019 VOC from the German Best of Riesling and 90 points from the London Decanter World Wine Awards. There will be six concert evenings at Sonberk: Eben Brothers, Monkey Business, MIG21, Ewa Farna and Jaroslav Dušek with the Dáša Ubrová Trio. On the evening of 18. August in Prague, we will receive the bronze trophy in the Winemaker of the Year competition - after two years, we are again in the top three of the best domestic wine producers. Martin Chlad is elected President of the Winegrowers' Association and accepts our invitation to join the Sonberk podcast Mezi řádky. 
And what happened next? We will tell you shortly in the final part of our traditional annual look back.