A very nice experience for us and another 14 lovers of great food and wine, prepared by our friends from Borgo Agnese restaurant on Tuesday. It was they who took care of the seven-course menu of our first Gastronight, which we organized directly at Sonberk at the big table overlooking Pálava and we are very happy that the table was filled to the last place.
How did it look exactly on Tuesday? Michal Prachař, co-owner of Borgo Agnese, took his colleagues, plenty of dishes, from different kinds of plates to their own grill, and especially the best raw materials that transformed them on the spot in perfect dishes suitable for getting together with our wines. We served the sea bass carpaccio, and our cuvée Pinot Gris&Chardonnay 2017, marinated beef with mayonnaise and Jalapeňo peppers with Riesling 2015, lobster with squashed pea and mint paired with Chardonnay&Pinot gris 2015 or 45 days dry-aged Iberico sirloin steak paired well with Merlot.
The advantage of such a small event is that the chef has time to talk about his art with people, and that is exactly what happened. The question was whether a sea bass lying on a plate was really caught on a fishing hook on the high seas (yes, it was) or how it is with the pairing of wines to eat.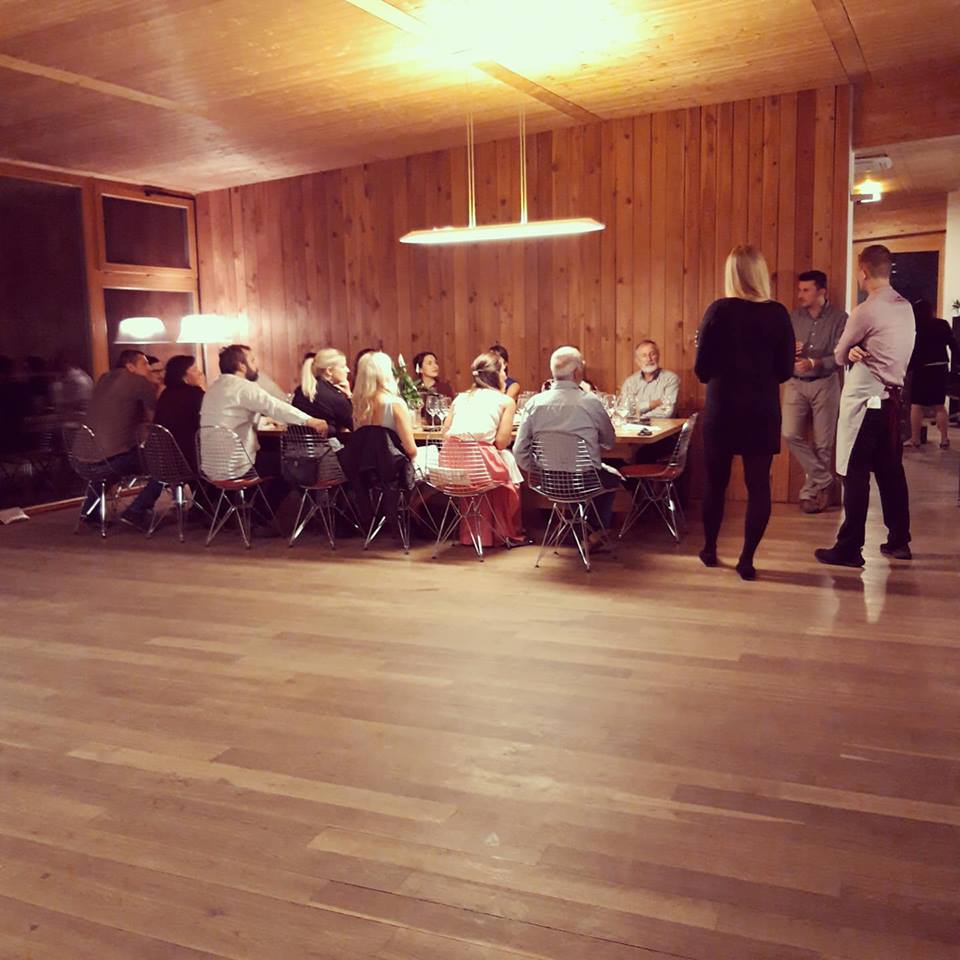 Because Sonberk is mainly about white wine, the menu was mainly based on fish and seafood. An exception was our Merlot 2015, served with steak from 45 days dry-aged sirloin steak. "It was a cherry on top that earned the most praise, it was great, the main course fulfilled expectations and it was the star of the evening," said our marketing director Dáša Fialová. Another great combination was of scallops with our dry Pálava 2017 VOC, which is not on sale yet.
There were even two wines to choose from, so visitors could try out how this menu selection looks. "We did it in beef with Japanese mayonnaise and jalapeňos, variants were dry Riesling 2015 VOC and semi-dry botrytis Riesling 2017, which is just getting ready for the market. "It turned out that the higher residual sugar was better supplemented with spicy peppers," Dáša added.
The first evening of Gastroautumn was with Borgo Agnese, because this year we celebrate ten years of cooperation, which we have already confirmed in the production of a special cuvée Borgo, which can be found only in this restaurant in Brno.
But now we are preparing the second evening of the food and wine pairing with specialists from Brno's Koishi restaurant, where they focus mainly on asian cuisine. It will be on November 20th and their owner Janko Martinkovič will come as well, who is known for how he's liked them among the people, so the fun will surely be taken care of. We accept the booking now on e-mail sonberk@sonberk.cz.The estimated price is 1500 CZK for the 5-course menu, 2000 CZK for the wine pairing menu. The price will be specified with an upcoming date.