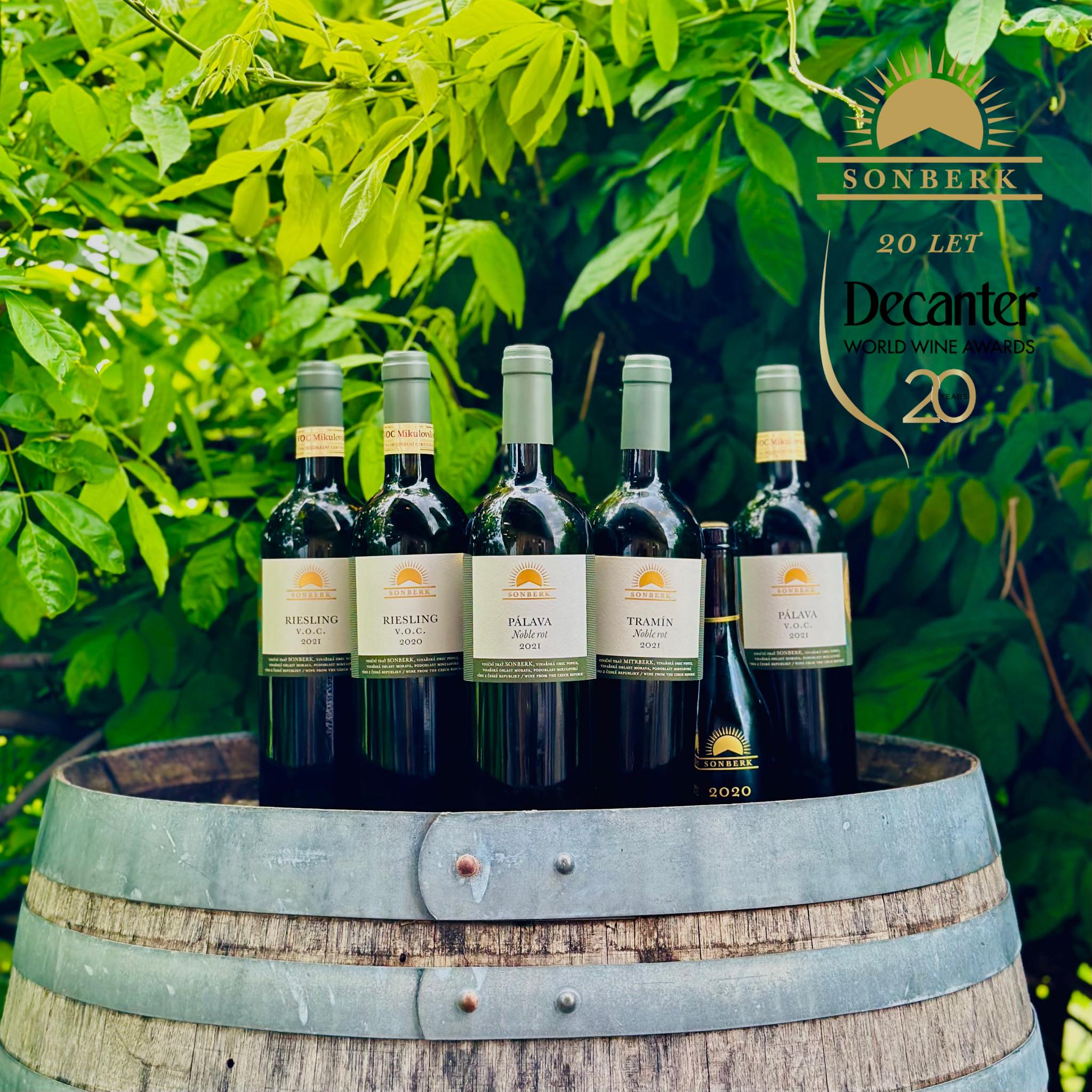 The Decanter World Wine Awards is celebrating its 20th anniversary this year, the same like our winery. And even after two decades, it still breaks records in the number of wines entered so far, this year it was 18,250 wines from 57 countries. From all of them, Sonberk also takes several awards. Some would say it is becoming a tradition, but we take it again with humility and great enthusiasm.
Wines of 2020 and 2021 were successful
This year, we are happy to announce a total of six successes. "Although it is not 97 points this time, we are still very happy with the results, because in our opinion it is one of the most prestigious industry competitions in the world. Evaluators know what they are doing. And we already know that 86 points and more mean very high-quality and world-class wine. It is an honor for us to be ranked among the best wine makers globally," explains marketing and sales director Dominika Holešínská.
The silver medal went to Pálava 2021 Noble rot with a score of 90 points. Furthermore, five of our wines won a bronze medal: Riesling 2020 VOC with 87 points, Riesling 2021 VOC with 88 points, Pálava 2021 VOC with 88 points, Tramín Noble rot 2021 with 89 points and Pálava 2020 with 88 points.
And what makes DWWA stand out from other competitions and what constitutes its prestige? First of all, the entire evaluation process, which takes place over a long period of time. It's not like the jurors meet somewhere for three or four days, but they work for almost a whole month. This year, the wines were evaluated by 53 holders of the Master of wine title and 16 Master Sommeliers, who came from 30 countries around the world.
This year's success confirms the long-term trend of valuing our wines at Decanter
In 2010, we got an award with Riesling 2008, when we won the title for the best white wine of Central and Eastern Europe in the old evaluation system. In 2017, it was no longer just a regional award - dry Pálava 2015 became the champion for the whole world and received the award for the best dry aromatic wine in the world.
In 2018, Slámová Pálava won 96 points and a gold medal. Since then, we have collected 90-point evaluations every year, but we also have a platinum medal for Riesling selection from cibeb. 2020 brought 97 points and platinum for Riesling Noble rot, which is the most we have ever achieved.