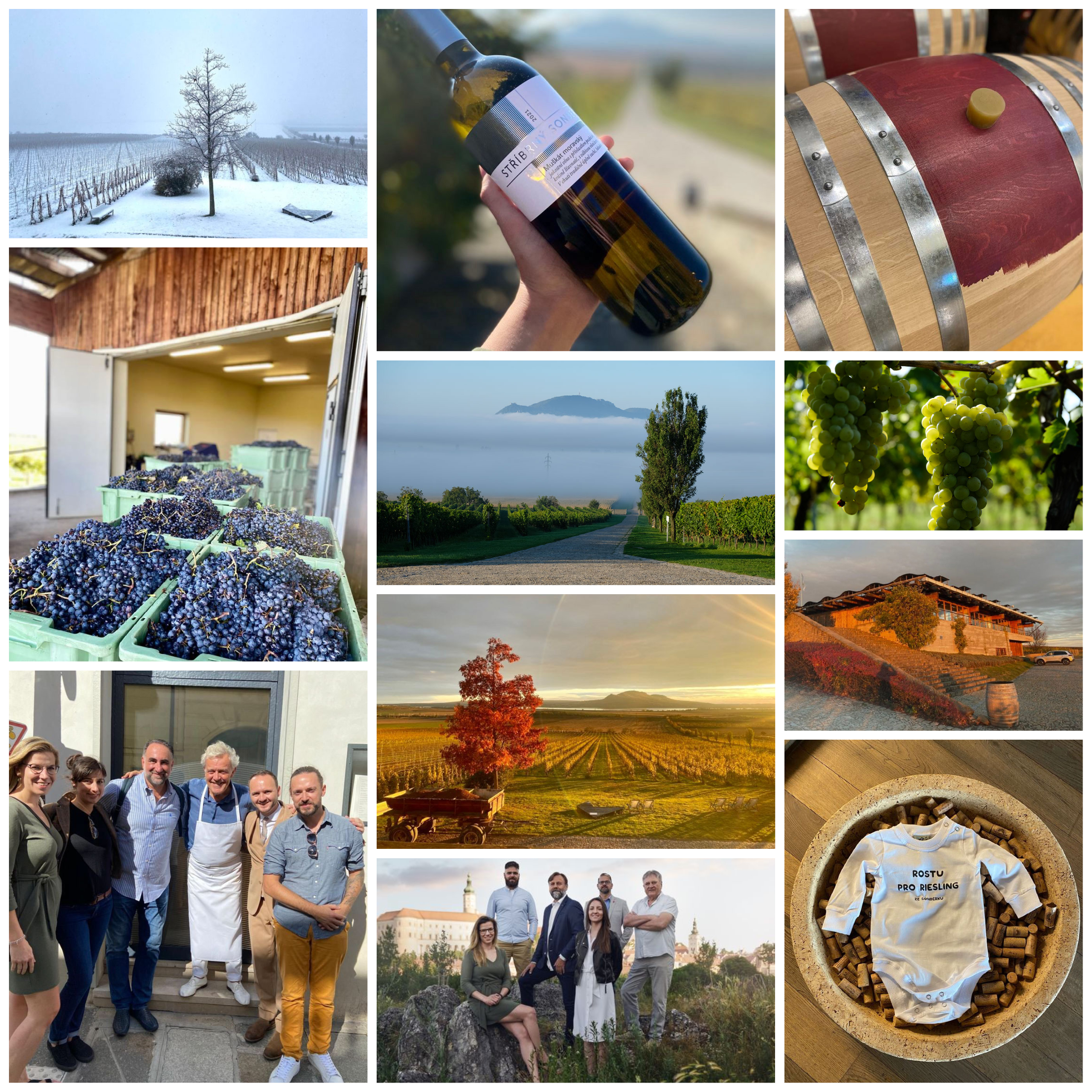 It's been a great year.
A challenging one. Not easy. It was a lot of work; probably the most we can remember in a long time. But it was worth it.
This was happening from January to April 2021.
This was our story from May to August 2021.
September 2021
After the summer months with unusually high rainfall, we will enter a fabulous Indian summer. Before we kick off this year's harvest with picking of Moravian Muscat on Tuesday 14 September, our sales & marketing director Dáša Fialová will go on a business trip to France. She brings news of a Michelin success we have never seen before - our wines have conquered France. After Muscat we pick Sauvignon, Chardonnay, Tramin and Pinot Gris. At the traditional Sonberk harvest feast, guests and longtime clients hold hands and sing along with Cimballica. The atmosphere is beautiful, family-like. 
October 2021
The beginning of October catapults us to the lucky seventh place in the TOP Wine Destination competition, thank you! We introduce a new podcast episode: About Wine Speakers with guest Jan Ustohal. The opening of the exhibition Krajina paměti / Memoryscape takes place in Havlíček Villa in Břeclav. We are proud to be a part of it. We introduce a dry Traminer, to which the 2020 vintage has given unprecedented elegance. On Tuesday, 26 October, we will hold a V8 tasting in Brno and we will be in Prague for the launch of a charity calendar, the purchase of which will help people suffering from cystic fibrosis. In the vineyard we're harvesting Palava, Riesling and Merlot. Our Pálava 2019 VOC is awarded the Prague Regional Champion - the best Pálava on the Czech market. In November, we will sell out the last bottles of it and put Pálava 2020 VOC on offer, another gem of a vintage that favours aromatic varieties.
November 2021
The last day of the harvest is Monday 1 November. We finish with hand-picking very ripe grapes for sweet Pálava. The grapes of this year's Hollywood vintage are gradually turning into wine in the cellar. The first wine of the 2021 vintage goes out - the Moravian Muscat. Mid-month, nine wineries are announced to go to the final round of the Winery of the Year competition - and this include half of the V8 Alliance members, huge congratulations to our colleagues! At the end of the month we welcome a shipment from France - it includes beautiful new fragrant oak barriques from the François Frères cooperage. 
December 2021
With the arrival of Advent, we are enjoying the first snow. We launch new children's merch in beautiful colours. Our winemaker Roman Slouk, as a member of the expert committee, judges the finalists of the Winery of the Year competition. Travel legend Miroslav Zikmund dies at the age of 102; we fondly remember his visit to Sonberk. We become partners in the international exhibition of Adriena Šimotová (1926 - 2014), one of the most respected figures of modern Czech visual art, organised by the International Centre of Graphic Art in Ljubljana under the auspices of the Czech Embassy. We are launching the pre-sale of tickets for the concert summer 2022.
We are wrapping and sending gifts and organizing parties with tastings. Both on-site and online. 
With every phone call, inquiry or like, we feel very grateful to be able to do what we do. Thank you for every glass of wine we've been able to pour you this year and for every bottle that, through your hands, has made someone happy. Thank you for making us part of your stories. Together and with wine, we can do absolutely anything. After this year, we have no doubt at all.